With an Alberta Clipper type system set to give us a shot of 3-6 inches between Tuesday afternoon and Wednesday morning I thought it might be good to throw together a set of Lift Tickets that you can buy at a discount TODAY that will likely be full price if you try to cut out of work and head up Wednesday with no planning.
Update Jan 16th 10:22am
Revised snowfall totals are now putting this in the 6-8 inch range for the Catskills and potentially 8-12+ inches for southern Vermont and the green mountains. Below is the most likely snowfall for our immediately accessible region.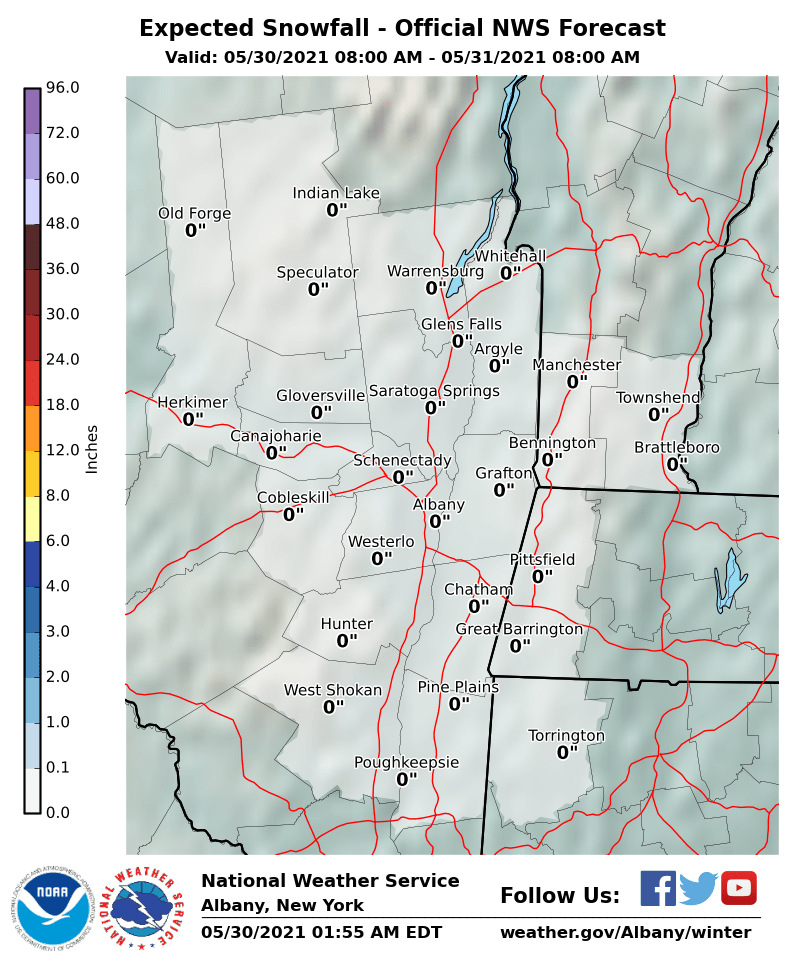 The above graphic is setup to update as we get new versions from the NWS so what you see is what you get and that will likely change between now and tomorrow morning.
Current Local Mountain Lift Ticket Discounts
55% off 35% off Mountain Creek Lift Tickets
I grew up training / riding at Mountain Creek and we partnered with the resort for three or four years while I was working on Original Skateboards. If it snows a lot (or just any time) I prefer south but either way it shouldn't be too crowded.
As a reference the 40% and 55% off tickets already sold out. There are (at the time of this update) 25 tickets left at a 35% off discount. Once those are sold my guess is there will be only full price MC options.
Wednesday 1/17/2018
$44.99 — 35% off Mountain Creek 1 Day Lift Tickets - 2018-01-17
These absolutely 100% will go up if you wait (it already did). If you plan to go, now is the time to buy.
40% off 38% off Gore Mountain Lift Tickets (NY)
Had a ton of fun here the guys a few years back and have been wanting to hit it up again ever since. As one of the bigger discounts (not to mention bigger hills) in my NY/NJ/PA local region I figured I would add it here. One day tickets I am listing for Wednesday since I figured thats when its supposed to be best, two day I am listing here for tomorrow in case you want to blow out tomorrow morning (which is my plan) and ski both days.
$47.99 — 38% off Gore Mountain 1 Day Lift Tickets - 2018-01-17
Some of these sold since yesterday as well so keep in mind that this price will likely as the day goes along and we get into this evening. The sooner you buy one the sooner you get to do some of this:
30% off Jack Frost / Big Boulder Lift Tickets
JFBB has some decent stuff still available. No single day tickets available for Tuesday but a Wednesday pass will run you $32.99 — Jack Frost Big Boulder 1 Day Lift Tickets - 2018-01-17 which is 35% off.
40% off Hunter Mountain Lift Tickets (SOLD OUT)
Hunter Mountain single-day lift ticket discounts are sold out and the only thing left are weird multi-day passes... like a 3 Day pass that I am going to assume no one is buying last minute. If you for whatever reason WANT TO a 3-day pass starting tomorrow is 40% off and goes for $125.99.
Hunter also has 2 day passes starting Wednesday (which probably isn't the worst thing ever) at 33% off discounts: $90.99 — Hunter Mountain 2 Day Lift Tickets - 2018-01-17
Vermont Options
The latest probabilistic forecast for Vermont has the southern tier of the state slated for 8 inches plus. Northern VT isn't going to get as much but there should still be something:
55% off Mount Snow Lift Tickets
Mount Snow is both the cheapest mountain on the list for this storm AND slated for the most snow in the entire forecast area. This would be my call if you have the time to make the drive.
$51.99 — 50% off Mount Snow 1 Day Lift Tickets - 2018-01-17
$87.99— 55% off Mount Snow 2 Day Lift Tickets - 2018-01-17
40% off Jay Peak Lift Tickets
Jay has hosted some of my deepest days ever. While tomorrow likely will not be one of them, the conditions should still be great. You also will not be paying full price like I have had to in the past.
$52 — 40% off Jay Peak 1 Day Lift Tickets - 2018-01-17
$104 — 40% off Jay Peak 2 Day Lift Tickets - 2018-01-17
40% off Mad River Glen
Skiers only and ski it if you can. My neighbor is obsessed with this place but sadly riding a single board (rather than one for each foot) crosses this one off my personal list of possibilities.
$81 — 50% off Mad River Glen 2-Day Lift Tickets - 2018-01-17
$54 — 40% off Mad River Glen 1-Day Lift Tickets - 2018-01-17
Burke Mountain
While I haven't ridden Burke in the winter I can tell you it is gnarly as hell to skate in the summer. This is probably a better option for anyone in Boston but I added it here for fun.
$38.99 — 45% off Burke Mountain 1-Day Lift Tickets - 2018-01-17
$71.99 — 42% off Burke Mountain 2-Day Lift Tickets - 2018-01-17
New Hampshire
New Hampshire isn't supposed to get as much as southern Vermont but I am adding it here incase you have a Peak Pass and want to get a ticket for a friend... or just feel like exploring.
Attitash-Wildcat
I have a peak pass and have been meaning to make a run up to New Hampshire for a while (although I haven't gotten to it yet).
$53.99 — 32% off Attitash-Wildcat 1 Day Lift Tickets - 2018-01-17
$94.99 — 35% off Attitash-Wildcat 2 Day Lift Tickets - 2018-01-17