This might be a Bomber.
With more snow on the way than any of us know what to do with, now's the time to gas up the truck (or car) and head North. The question is when, and where, to ride and how to leave some cash in your pocket to extend the trip.
Many Resorts are offering 40% off lift tickets Tuesday / Wednesday. Why post flight deals when the best snow (Blizzard Warning baby!) is on the way here on the East Coast?
Here's a shot of Hunter with 1/10th the snow we are expecting over the next two days.

Thanks fly out to @daniel.herbert.568 for pointing out the strangness of posting flight deals ANYWHERE with the weather forecast looking like this: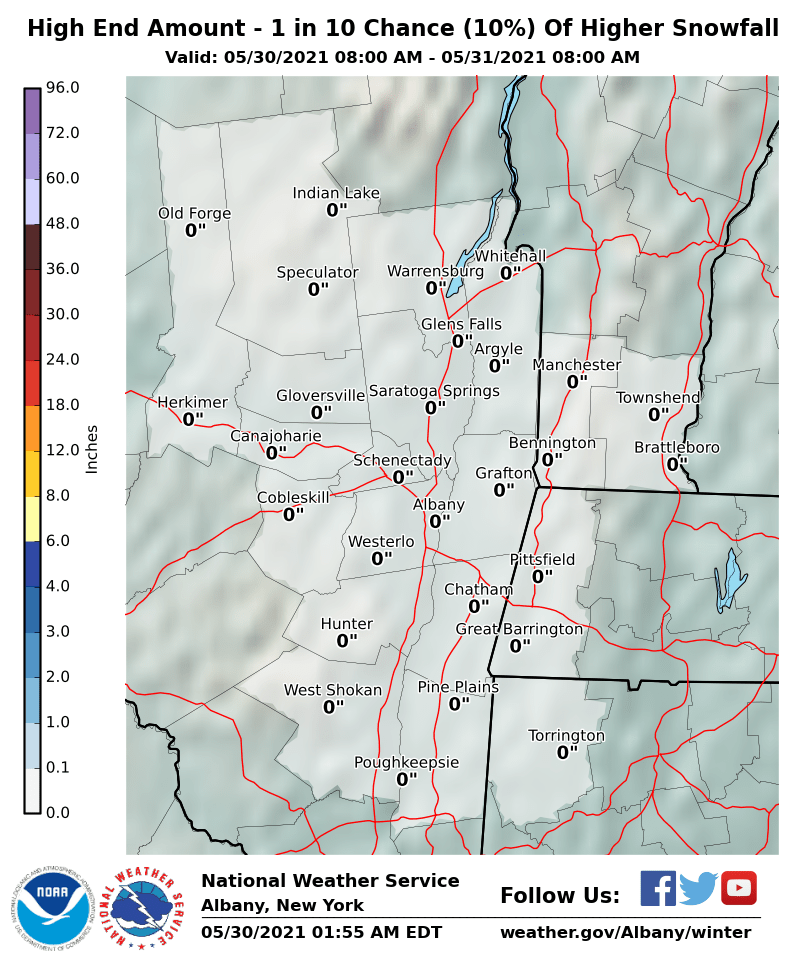 I've been waist Deep in Southern Vermont powder before, and itlooks like we are on track for a repeat performance Tuesday (dumping) and Wednesday (still snowing up north!).
Washer Fluid: Check.
Oil: Check.
Coolant: Check.
Tires: Check
4x4: Still works
Not only is this going to likely be the biggest dump of 2017, for most of the closer / Accessible Mountains of the Catskills / Southern Vermont, but the timing absolutely could not be better for anyone who has a more legit job than I do.
Cheap Lift Tickets
Mount Snow (18+ Inches)
Mount Snow is offering 38% off tickets if you Buy Em at Liftopia putting it at the top of my list. If you really want to charge it they have 50% off a Three Day Pass.
Mount Snow is also right up there with Stratton (up to 21 inches) and second to Hunter / Windham (up to 28 inches) for projected snow totals (see above map).
Jay Peak (15+ inches)
A little far for my liking (took me 14 hours straight through a blizzard one time) but since the timing is right and the roads should be clear, still makes the list thanks to 14 to 18 inches and absolutely amazing terrain / tram access... even though the snow totals are not what they will be for us down south.
Jay Peak is offering 35% off One or Two day Lift Tickets and 40% off Three Day Passes with Liftopia. If you have never been to Jay now is a GREAT time to go for it, everyone needs to ski Jay at least once during a dump.
Hunter (24+ inches)
While Hunter doesn't have any passes at a Discount, I can personally hook up Three additional discount passes (20% off) If you end up going, shoot us a message on Facebook and I will hit you back if they aren't used yet (assuming I am taking a break from hounding powder in the trees).
Timing
One of the huge problems we usually run into is Snow starting too early, making it difficult or impossible to make the drive in a reasonable amount of time. That is NOT the case this time around so we are giving this one a full on GO FOR IT.
Here's the beta Storm Total map for likely snowfall for our Area out of the Philly NWS office.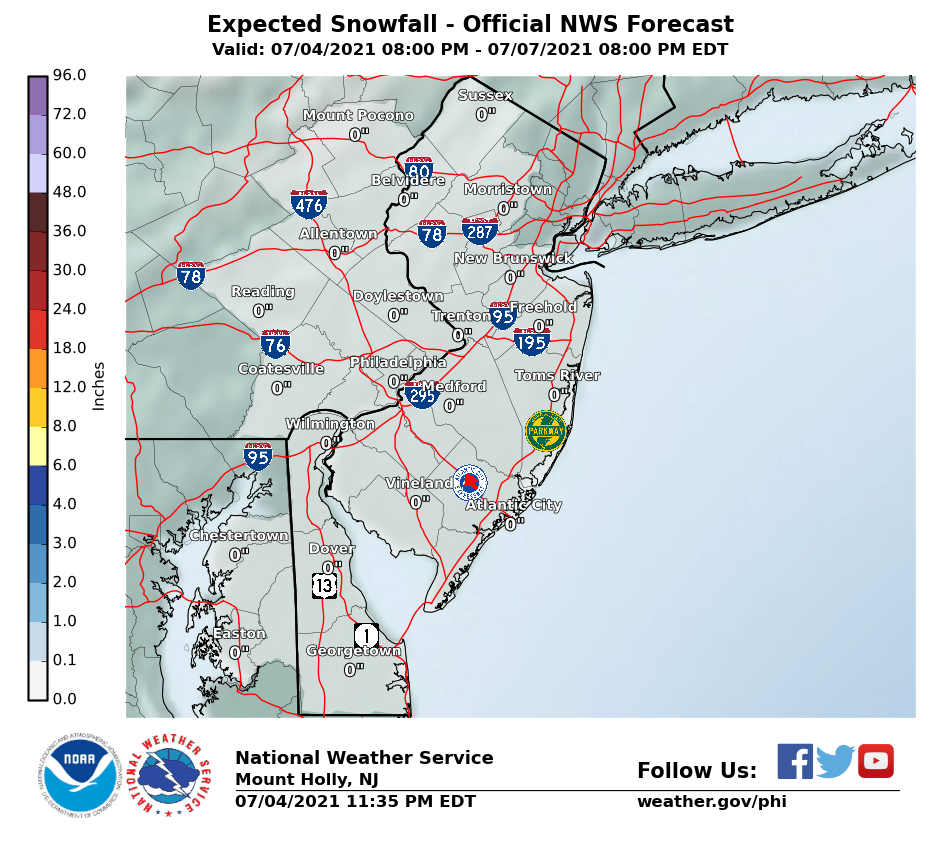 If you have to work Monday (most people probably do) the following rough "Start" times for snow mean you have enough time to get out of work, pack up, and be in the car headed North before things get too nuts (ie. before States of emergency go into effect, because they absolutely will).
Philadelphia
(12+ inches at home) | NWS Office: Mt. Holly / Philadelphia
Snow Start Time: Mainly after 9PM
Likelihood the office is open Tuesday: 20%
Plausible Sicknesses in around the Philly Area: Influenza, Food Poisoning
Snow accumulations will be relatively light by morning BUT we are all supposed to be in for occasional 1-3 inch per hour bands on Tuesday during the day. If your office is open on Tuesday, it's because your boss is a jerk. If you live in or around Philly, you just got a stomach bug and won't be coming in.
If you get busted calling in Sick just remember, it's due to the delivery not due to the sickness.
New York / New Jersey / Connecticut
(14-18+ inches at home) | NWS Office: NYC / OKX
Snow Start Time: Mainly after 1AM
Likelihood the office is open Tuesday: ZERO PERCENT
Plausible Sicknesses in around the NYC Area: You won't fucking need one, your office is closed tomorrow.
The city is no place to be with two feet of snow clogging the roads. If you DO end up going in to work tomorrow you certainly won't be coming home.
Better to be Stuck with me at Hunter with 24+ inches. The only way you reasonably can expect to have work tomorrow is if you drive a plow, or have your MD and are on-call at the hospital.
Please excuse the flight pricing below, we still haven't set the site up to get rid of it on Deals not related to flights.